Dundee Hills AVA, Oregon.
The Murto Vineyard, located in the heart of the Dundee Hills, is surrounded by some of the most iconic vineyards in the Willamette Valley and fruit from this vineyard sets itself apart from its neighbors with its signature density of color, which shows itself right away in the glass. This vineyard was originally planted in 1978 with subsequent plantings in 1992 all under the tutelage of pioneers Dick Erath and Jim Maresh. Tended since 1991 by the Murto family, it was acquired by Real Nice Winemakers in 2018.
Hyland Vineyard is one of the oldest and most renowned vineyards in the Willamette Valley. Planted in 1972, it was a core vineyard for Oregon producers throughout the 1970's and 1980's. Today, Hyland is the epitome of old school Oregon wine growing, with wide rows, dry farming, and non-grafted vines. Hyland Vineyard changed hands about 10 years ago and is now farmed for the highest quality fruit using organic and biodynamic farming practices.
Domaine Loubejac Vineyard
Willamette Valley AVA, Oregon.
Domaine Loubejac lays on the 45th parallel in the Southern Willamette Valley in Oregon. That's almost exactly in line with Burgundy in France. These similarities in climate only help to enhance the flavor profile of Pinot Noir grown across Willamette. At the same time, the unique soil composition offers a refreshing hint of mineral flavors. This, in conjunction with the consistent winds that persist across the vineyard, allow for additional refinement and complexity commonly only seen in the Old World.
Willamette Valley AVA, Oregon.
Located in the heart of the Willamette Valley, the Westmount Vineyard has over 100 planted acres and over 110,000 vines. It is grounded in and driven by the philosophy that life is about the spirit of exploration and the journey and as such Westmount's vineyard team focuses on sustainability and quality because of the belief thatgreat wine is made in the vineyard. Fruit which comes from the Westmount Vineyard tends to be big and bold and distinctive even when blended.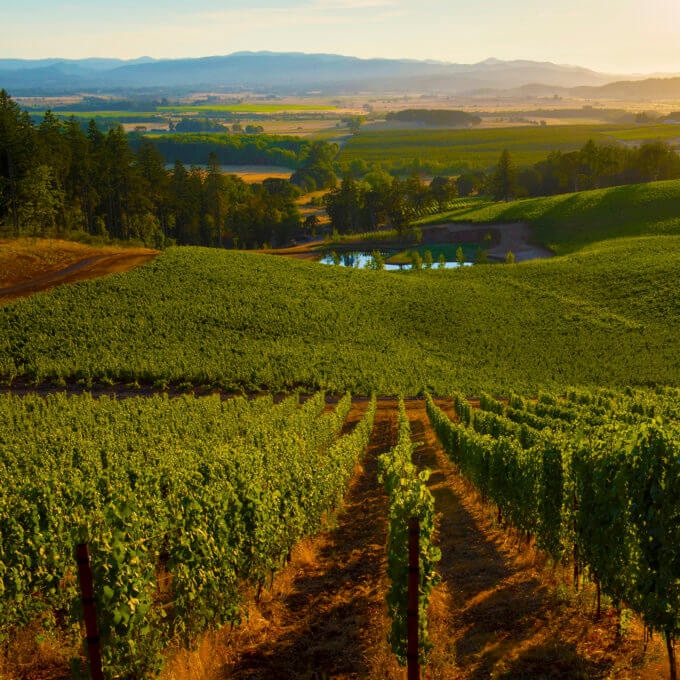 Eola-Amity Hills AVA, Oregon.
The Eola Hills Vineyard benefits from eastern maritime winds from the Oregon Coast through the Van Duzer Corridor, creating cooler evening and nighttime temperatures in the summer and fall. This unique cooling effect creates an ideal mesoclimate for Pinot Noir, Pinot Gris and Chardonnay grapes, which favor warm days and cool nights. Cooler evening temperatures help preserve the natural acid structure in the grapes, resulting in very food-friendly wines, and greater longevity in the bottle.